Featured Development allows your property to appear at the top of the search results page and be seen first by property seekers.
If you decide to make one of your property listings a Featured Development, this portal enhancement ensures the property is showcased ahead of the main search results in your area, making it one of the first to be seen at the top of any relevant results. The property will also appear within the standard search results, increasing the level of exposure, and in turn, applicant leads.
If you make a developer property a Featured Development, not only will they be impressed with the premium marketing service you are providing to market and show off their property as one to look at, it will also benefit you by providing brand awareness as it includes your logo. This will help to bring increased traffic to your Development Profile and other listings you have, due to it being one of the first to be seen.
What is a Featured Development?
If you have properties that could benefit from a listings boost or you are trying to market in a very competitive area, you can purchase Featured Development for desired outcodes.
When a potential applicant searches for properties in the area relating to the outcode you have purchased, Zoopla will automatically select Featured properties by scanning your property portfolio and matching the most relevant property to the applicants search criteria.
Within the Zoopla app, the properties you have that match the search criteria will be the first to appear in the results, be highlighted with a coloured border, and contain your logo. In addition, the property will also appear within the standard search results.
All relevant properties are equally rotated each time the page is refreshed. If there are more than 3 relevant featured properties from 3 different agents, the listings will rotate.
Best practice
If you have a property in an area which includes many listings and is therefore very competitive, rather than it be placed further down the search results, you can make it a Featured Property. This will increase the properties exposure to potential applicants.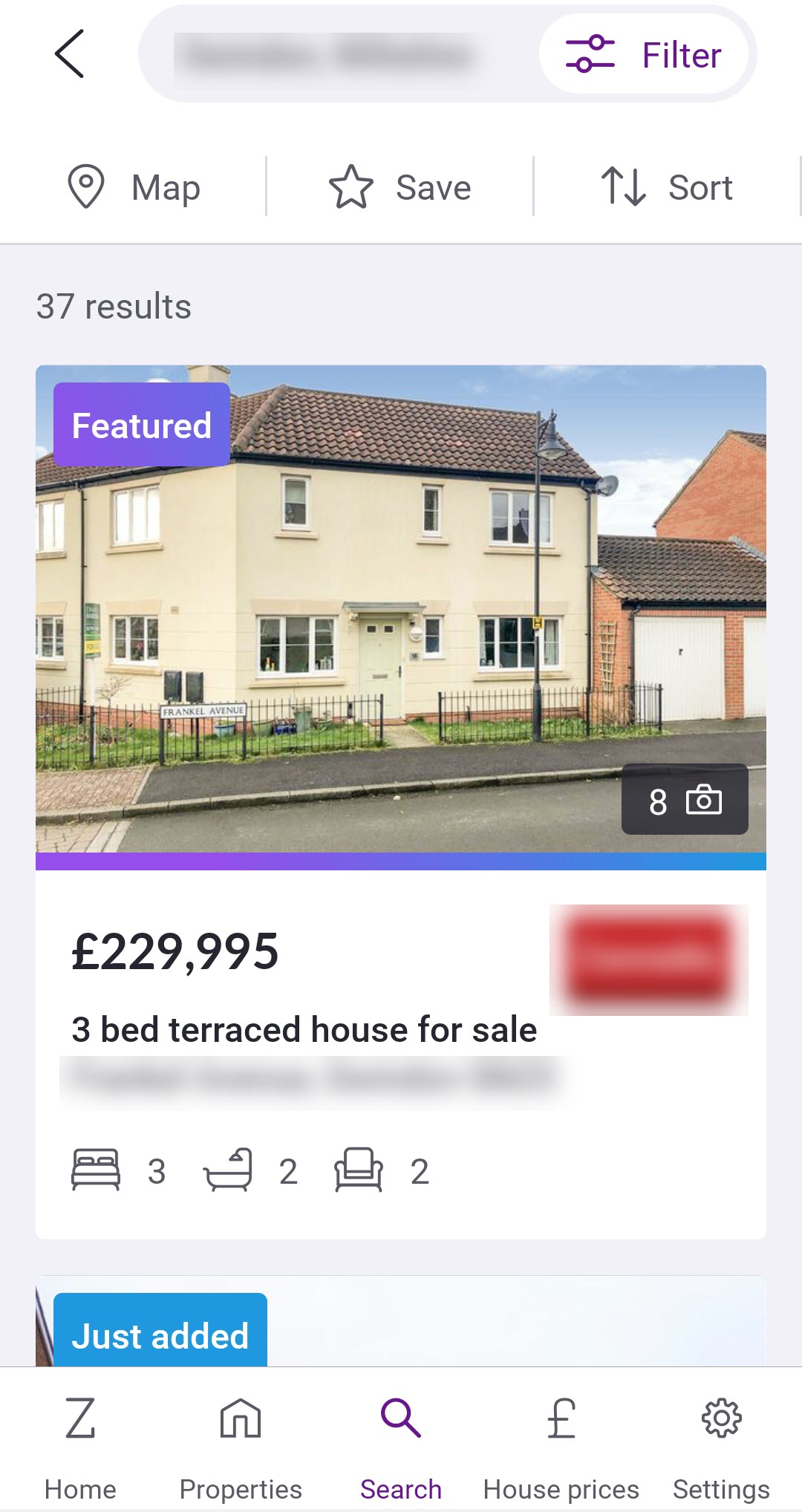 A Featured property as seen at the top of Zoopla search results, via the Zoopla Android app
If you have Featured Property as part of your membership or as a paid portal enhancement, a Featured properties report is also available in ZooplaPro that will show you how each of your featured properties are performing on Zoopla. You can use this in conjunction with your regular correspondence to reassure your vendor or landlord of the steps you've taken to market their property and of the results you have achieved.
Note
Once Featured Development has been applied by our contracts team it will automatically add your development to the carousel at the top of the search page
Why use Featured Development?
Featured development is a great way to stay fresh and relevant to property seekers as you progress through the phases of your development and get in front of new property seekers at the same time.

It increases the visibility of your development and maximises lead performance by an extra 23 weeks

You get more than double the number of clicks than you would on a standard listing
Note
For more information on Featured Development on Zoopla Advantage, click here
If you wish to purchase the Featured Development portal enhancement for your ZooplaPro account, contact your Account Manager or Member Services. You can either email newhomes@zoopla.co., or, click Submit a request below and complete the contact form
Related articles:
How can I add or update my outcodes?